Stephens helps U.S. women's rugby team qualify for Olympics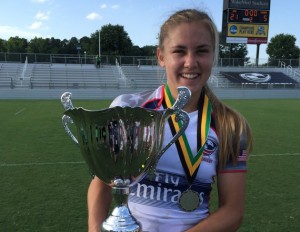 Richelle Stephens graduated from Fallbrook High School on May 27 and spent the following week at the rugby camp at the Olympic Training Center in Chula Vista. After returning home for the weekend, she returned to the Olympic Training Center as a member of the United States team. The following weekend she was on the Women's Eagles sevens national team which won the North America Caribbean Rugby Association qualifying tournament for the 2016 Olympic Games, and during the ensuing week Stephens was selected to represent the Women's Eagles in the Pan American Games.
Her participation in that 2012 identification camp came a week after she was named the most valuable player of the USA Sevens Girls High School Rugby Challenge tournament in Philadelphia; the Fallbrook High School rugby club won that tournament. The Warriors also won USA Rugby's under-19 National Invitational Tournament during Stephens' freshman year. In 2012 Stephens also attended an under-20 camp at the Olympic Training Center in Lake Placid, New York, and played for the Southern California Rugby Football Union's Griffins all-star team in an August 2012 sevens tournament at the Olympic Training Center in Chula Vista. Although Stephens was only 15 at the time, she was on the Griffins' under-19 team which participated in the June 2012 West Coast All-Star Invitational Tournament in Portland.
~~~~~~~~~~~~~~~~~~~~~~~~~~~~~~~~~~~~~~
Zeke Young Signs with Duke University
Left-handed pitcher, Zeke Young, 18, recently signed a national letter of intent to play baseball with the Duke University Blue Devils.
Young, an 11-year resident of Fallbrook, started his baseball career at Fallbrook Youth Baseball.
He plans to study biomedical engineering. Young is an International Baccalaureate student at Great Oak High School in Temecula with a current grade point average of 4.53.
Pierce named 2014 Guggenheim Fellow

Niles A. Pierce
Niles A. Pierce, a native of Fallbrook and professor of applied and computational mathematics and bioengineering at the California Institute of Technology (Caltech), is one of only two engineers nationwide to be named a 2014 Guggenheim Fellow by the John Simon Guggenheim Memorial Foundation.
Pierce is working to engineer programmable molecular instruments capable of reading out and regulating the state of biological circuitry within intact biological organisms.
In this pursuit, his laboratory has contributed to the founding of the new discipline of molecular programming, developing molecular mechanisms, design principles, and computational algorithms that enable the rational design and construction of dynamic molecular devices.
Guggenheim Fellowships are awarded based on prior achievement and exceptional promise, aiming to provide Fellows with blocks of time in which they can work with as much creative freedom as possible.
Pierce is the oldest of four children of Fallbrook residents Michael and Elizabeth Pierce. He graduated from Fallbrook High School in 1989 and went on to receive his undergraduate degree in mechanical and aerospace engineering at Princeton University. He attended University of Oxford as a Rhodes Scholar for a doctoral degree in applied mathematics.
Reprinted from The Fallbrook/Bonsall Village News 
~~~~~~~~~~~~~~~~~~~~~~~~~~~~~~~~~~~~~~~~~~~
Seven Fallbrook players contribute to senior softball championship.
November , 2011
(The following is an excerpt from an article that appeared in the Fallbrook Village News written by Joe Naiman, Village News Correspondent.)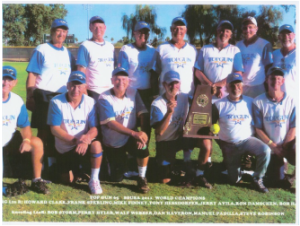 Seven Fallbrook residents, including player-manager Dan Haveron, were among the 16 players on the Top Gun 65 Silver team which won the Senior Softball USA world championship October 17-20 in Phoenix.
The Top Gun 65 Silver squad had a record of 28-4 during 2011 and won four Senior Softball USA major tournaments, including the world championships. "It's kind of unusual for a senior softball team to go 28 and 4," Haveron said. "These guys hit the ball well and played good defense all season."
The senior softball age brackets are in five-year increments, so a player in the 65-and-over age group must be at least 65 although any player 70 or over may choose to remain in 65-and-over play or move to the older age group. Top Gun 65 Silver had four new players for 2011. "Made a world of difference in our overall play," Haveron said. "The guys won four major tournaments, which was an accomplishment."
In addition to Haveron, the Fallbrook players were utility player Jerry Avila (Class of 1964), outfielders Steve Baker and Howard Clark, catcher Tony Hessendorf (Class of 1962), shortstop Frank Sperling, and third baseman Bob Storm. Avila batted .933 in the world championships. The team also plays in a local league at Ingold Fields.
~~~~~~~~~~~~~~~~~~~~~~~~~~~~~~~~~~~~~~~~~
Shirley and Jack Story. Jack is from the class of 1952. Shirley is holding the book written by Jack, "Home Front Memories," stories of some childhood memories of growing up in Fallbrook during WWII. On the table is his diploma from the Institute of Children's Literature.
~~~~~~~~~~~~~~~~~~~~~~~~~~~~~~~~~
International Fitness Magazine Names Loigu Personal Trainer of the Year
Robert Loigu, Class of 1984, was named personal trainer of the year by World Physique Magazine. Robert graduated from FUHS and went on to UCLA where he played in the Rose Bowl game and helped the Bruin's  win the championship.
~~~~~~~~~~~~~~~~~~~~~~~~~~~~~~~
SEAN DOWLING
Story by Lance Cpl. Rebecca Eller
Lance Cpl. Rebecca Eller reports that Sean Dowling, Fallbrook Union High School's offensive lineman and one of California's top high school football stars, performs inch worm push-ups during practice for the Semper Fidelis All-American Bowl at the Santa Ana Stadium, Santa Ana, Calif., Jan 2. The Semper Fi Bowl is the culmination of the Marine Corps' Semper Fidelis Football Program, through which the Marine Corps purposefully engages with well-rounded student athletes to share leadership lessons that will enable success in the future. (U.S. Marine Corps photo by Lance Cpl. Rebecca Eller)
ANAHEIM, Calif. – Standing at 6′ 6″ tall and weighing in at 265 pounds, Sean Dowling is still a senior in high school and is already built like a professional National Football League player. Dowling, offensive lineman from Fallbrook Union High School is set to play in the Semper Fidelis All-American Bowl held in Anaheim, Calif., Jan. 4. More than 100 football athletes were selected to play in the East vs. West game based on not only their football skills but also academic excellence, physical fitness and character.
"Throughout bowl week, players engage with U.S. Marines and professional and college football coaches to develop skills and values important to football and a successful life," said Maj. John Caldwell, public affairs officer of Marine Corps Recruiting Command. "Marines reinforce the applicability of our core values of honor, courage and commitment to success both on and off the gridiron." The Marine Corps leadership traits are nothing new to Dowling – his father is a Marine colonel.
"My father being a Marine colonel, I've been living within the confides of the Marine Corps my whole life," said Dowling. "It's a big deal to me to be able to represent not only the Marine Corps but my family and all the people that I know."
Watching is father preserve through hard times and maintain bearing inspired Dowling to hold the same character and learned at a young age to do the right thing even when no one was looking.
"The skills we learn on the football field are relatable to later in life," said Dowling. "The Marine Corps ethos and 14 leadership traits are all applicable to football in doing the best you can, if you're able to apply all those to your game, you're going to be successful."
~~~~~~~~~~~~~~~~~~~~~~~~~~~~~~~~~~~~~~~~~
Fallbrook  Historical Society' Man of the Year, 2012
A WWII veteran, Jack was awarded the American Area Victory Medal WWII, Asiatic Pacific W4 stars, and Philippine Liberation W2 stars. The community admires Jack as the fellow who sponsored the Veteran's plaques in the town square. This important addition to the center of the village is a constant reminder of the sacrifices made by Fallbrook patriots and a tribute to Jack's service to his country and to our village.
~~~~~~~~~~~~~~~~~~~~~~~~~~~~~~~~~~~~~~~~~
Brooke Abel – Synchronized Swimming  2007 -Born: February 15, 1988 Hometown: Fallbrook, CA  –  Residence: Walnut Creek, CA  –  Ht: 5'5″ 
Event(s): Synchronized Swimming. A notable presence in competitive synchronized swimming, Abel was the only athlete to qualify for both the junior and senior national teams in 2006. At the Junior National Championships that year, she swept all three events, placing first in the solo, duet and team. In 2007 she and the national team placed fifth overall at Worlds, and Abel also received a nomination to the Pan-American team.
 Matthew Bryan Chico (born June 10, 1983) is an American professional baseball pitcher. Chico is of Mexican-American descent. He currently plays for the New Jersey Jackals of the Canadian-American Association. During the offseason, Chico and his wife, Stephanie, reside in Viera, Florida. Former Washington Nationals pitcher. Chico, who has had major elbow surgery in the past, spent 2011 pitching for the Nationals' Gulf Coast League team, the Harrisburg Senators, and the Syracuse SkyChiefs before signing with the Jackals in 2012.
Michael Curtis, television writer and producer of, "Friends," "The Joe Schmoe Show," and "J.O.N.A.S.." He is co-founder of "Mantis Productions" alongside Roger S.H. Schulman, co-creater of Jonas and the actual writer of "Shrek."}
John Dutton, quarterback for the Colorado Crush of the Arena Football League- Dutton attended Fallbrook Union High School in Fallbrook, California, and was a letterman in basketball andfootball. In football, he passed for 2,056 yards and ten touchdowns as a senior. Dutton then played college football for the Texas Longhorns, but was only a backup to starting quarterback James Brown. He later transferred to Nevada, and played for the Nevada Wolf Pack. Dutton helped the Wolf Pack win two Big West championships, and the 1996 Las Vegas Bowl.  Dutton coached high school football at Linfield Christian School in Temecula, California during the 2004-2005 season. As the quarterback and wide receiver coach, Dutton helped lead Linfield Christian on to a 10-2-1 overall record. He currently coaches as an assistant at College of the Siskiyous in Weed, California.
Howard Keel, an actor and singer- After his father's death in 1930, Keel and his mother moved to California, where he graduated fromFallbrook High School at age 17. He worked various odd jobs until settling at Douglas Aircraft Company as a traveling representative.
Mike Leake, pitcher for the Cincinnati Reds of Major League Baseball – Leake was born in San Diego, California, and grew up in Valley Center, California, the son of Chris and Sarah Leake. Both his brother and his father call him Mikey. Leake grew up as a Seattle Mariners fan and idolized Vladimir Guerrero and Nolan Ryan among others. He started playing baseball at age 5 by tagging along with his older brother everywhere – to the point where Ryan complained about Mike to his parents. Chris and Sarah Leake convinced Ryan to put up with Mike and teach him how to carry himself both on and off the field.

 

Leake is listed at 6-foot-1, 190 pounds, in the Reds' media guide, but he himself admits that he is actually about 5-foot-10, 175 pounds. Leake attended Valley Center High School his freshman and sophomore years where he started on the varsity baseball team. Leake transferred to Fallbrook High School, where he lettered in baseball two years and was co-team captain for the baseball team his senior season. He graduated in 2006.
Donny Lucy, catcher for MLB's Chicago White Sox – Donny attended Fallbrook Union High School in San Diego, California. He was named the 2001 San Diego CountyMale Athlete of the Year. He was a catcher and an infielder in baseball and was a running back and a linebacker infootball. After graduating from high school, he attended Stanford University. In his junior year, he was All-Pac-10 when he hit .313 with 12 home runs and 47 RBIs in 56 games. After his junior year, he was selected by the Chicago White Sox in the 2nd round (59th overall) in the 2004 Major League Baseball Draft. September 28, 2011 for the Chicago White Sox PIX
Brent Noon  national record-holding high school shot put in United States history –  While competing for Fallbrook Union High School, Noon recorded the second best marks in the shot put, the closest approach to Michael Carter's NFHS record.[1] Noon's 1989 mark of 76'2″ is still the current California High School record[2]After taking a year off, he continued on to the University of Georgia where he won three straight NCAA Men's Outdoor Track and Field Championships. The University elected Noon to its "Circle of Honor" in 2009

.

Noon won the 1995 USA Outdoor Track and Field Championships[4] allowing Noon to compete for the United States at the 1995 World Championships in Athletics, where he finished 5th behind American teammates John Godina and Randy Barnes. Barnes is the current world record holder in the shot put and was a mentor to the younger Noon, residing with the Noon family while visiting California training for the Jack in the Box Invitational meet where he ultimately set the record.
Ryan Plackemeier, punter for the Seattle Seahawks of the National Football League – Plackemeier was born in Colorado Springs, Colorado. He attended Fallbrook Union High School in Fallbrook, California, and was a letterman in soccer and football. In soccer, he was a four-year letterman and was twice recognized as his team's most valuable player. In football, as a senior, he was a first team All-Avocado League selection and was named the North County Times Kicker of the Year. Plackemeier was selected by the Seattle Seahawks in the seventh round (239th overall pick) of the 2006 NFL Draft and signed to a four-year, $1.65 million contract. He was released from the Seahawks on September 9, 2008. He l

ast played in 2008 for the Washington Redskins

Teagan Presley, pornographic film actress
Arielle Vandenberg, actress and model – Arielle Vandenberg was born September 27, 1986 in Los Angeles County, to Dirk and DeEtte Vandenberg. She graduated from Fallbrook Union High School. Arielle gained brief fame when she dated the lead singer of Arctic Monkeys Alex Turner from late 2011 to early 2014.