Congratulations Class of 2021!!!
Livestream Graduation on our FHS Youtube channel. Both ceremonies will begin at 6 p.m.
Video of the 2018 All Alumni Picnic held on Sunday, October 21st, at Live Oak Park in Fallbrook. Video by Ashanti McMillon
The video below is an Alumni..on Facebook a request was made to sing the school Alma Mater and Craig Bass (Class of 1975) took the challenge! Enjoy.
The second link (from Fallbrook Alumni Facebook page) has others singing the Alma Mater at reunions held a couple of weeks ago.
A Tribute To Fallbrook!
At the end of 1956, the small town of Fallbrook started to work its way into my heart. I was in high school and my family moved to Fallbrook. This was the start of my love for this town and the joy it would bring me for many years to come. I can remember the first day in Fallbrook. Everyone was so welcoming. I made friends right away. During the course of my junior year of high school, I quickly began to appreciate the caring teachers and support of all within this community. We have spent the last number of years in Arizona. My grandson and son in law had some health issues which led to us all congregating there to support each other. Although this was the right thing for my family and where we needed to be at this time of our lives, I will always feel like Fallbrook is my home. I look back on all that this unique community gave to me and my family and am just so grateful to have been a part of it. It was an honor to have been a part of this community for 52 years! THANK YOU very much!!!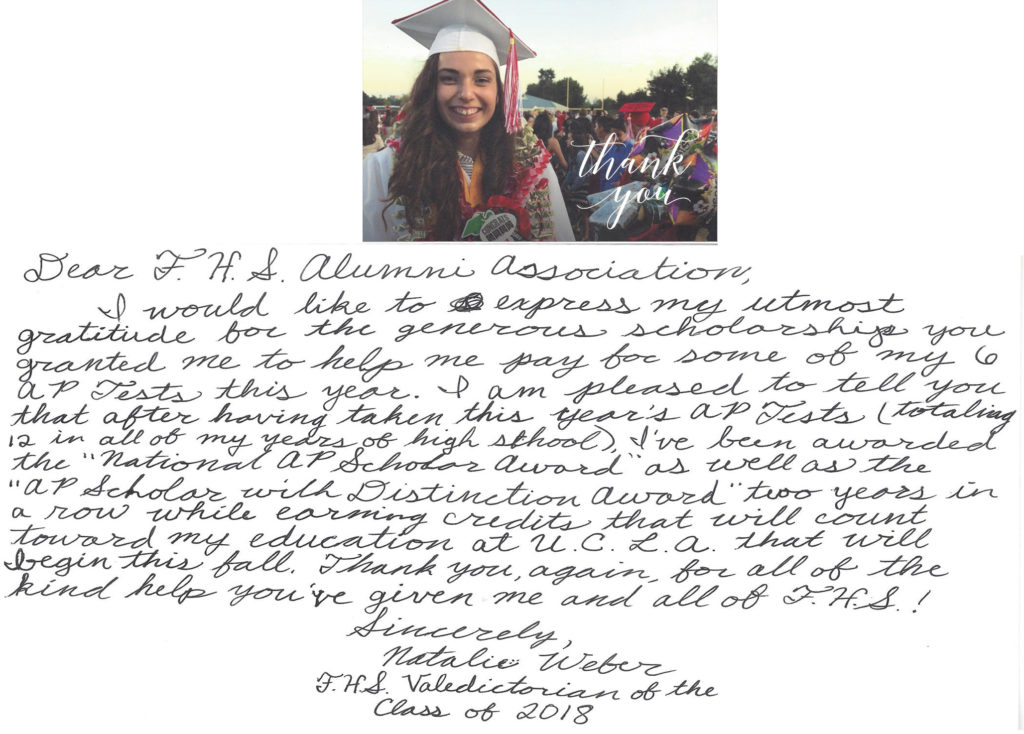 Check out the "Warrior" merchandise ..Fallbrook Warrior Merchandise
Honor Flight Network Invites Bud Roberds To Washington DC
Reprinted -Village News Tom Ferrall — Staff Writer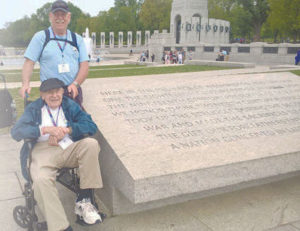 Fallbrook, CA….Longtime Fallbrook resident Bud Roberds, a 98-year-old World War II veteran, recently enjoyed "a wonderful trip" when he joined 79 other veterans in traveling from San Diego to Washington D.C. – with all expenses paid – courtesy of Honor Flight San Diego.
HFSD is a non-profit branch of the nationwide Honor Flight Network which consists of over 130 independent "hubs" across America. Honor Flight's mission is "to transport America's veterans to Washington, D.C. to visit those memorials dedicated to honor the service and sacrifices of themselves and their friends.""I was impressed with the organization," said Roberds. "It was all top-notch."
Rita Robinson Pankey – Special to the Village News
I came to Fallbrook in the summer of '57, from Washington DC in a 28' travel trailer. My Dad, a Navy officer with 30 years service, had just retired. My folks had always planned to come back near San Diego. They thought Fallbrook was the perfect town.
I retired in 1994 to help take care of my parents. Bill is still working hard managing the ranch and his computer company. We love to travel and read and spend time with the family. I am involved in the Angel Shop Thrift Store and have made many life long friends through that organization. It is a wonderful way to meet people and the shop generates money for many local charities.
Thanks for the memories
Marlin D. Vix
Special to the Village News
It is with great pleasure that I think back on the years I lived in Fallbrook, beginning in 1950 as a first grader through 1962 when I graduated from high school. The experiences and friendships of those years were truly the wonder years. To those of you who were living in Fallbrook in the 1950s and 1960s, you will probably agree that it truly was a magical place.
After high school, I attended San Jose State, married Cindy, who has been my wife for nearly 50 years, worked at various jobs after graduation, went to Europe for one year and then decided to go to graduate school.
Cindy and I have been blessed with two independent, delightful children who have spouses that are a gift in our lives. We have five grandchildren, and all of them are energetic and seem to be headed in the right direction.
I wish to thank my Fallbrook friends, teammates, classmates, teachers, coaches, parents and siblings for providing me with the encouragement to take chances in life. I cannot imagine a better place to have grown up.
Come join this fun event..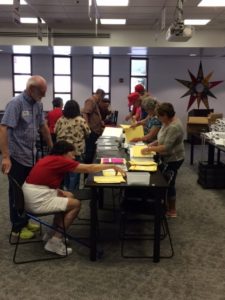 We did it! Another successful backpack packing event is in the books. Many thanks to our intrepid packers, alumni members Nora, Maxine, Carol, Tony, Cathy,
Dixie, Barbara (all the way from Florida!), Jerry, Duane, Jim, Jan, and Gary. Special thanks to Nora and Gary, and their daughter, Anita at King's Stationers, for ordering and delivering the supplies.
Nora is in the final stages of putting our calendar together and showed us preliminary artwork that is sure to make our calendar a best seller once completed. It features local Fallbrook merchants and organizations. Stay tuned for the new, 15 month, calendar available for purchase SOON!
FYI, the new Career Center at FUHS is AWESOME! It really is a showcase and perfect for our young Warriors to spend time in while researching career paths and schools to pursue. Tony Morrow and Pam Cain can be very proud of their new "digs" and did a fantastic job putting it all together
FUHS Career Center Needs Thermal Pump Coffee Servers and….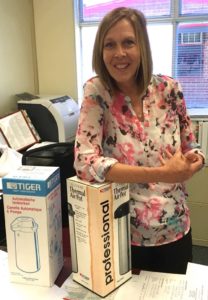 The hard-working Pam Cain at Fallbrook High School's College and Career Center received two thermal air pots donated by the Fallbrook Alumni Association. They will be used in the new Center located under the library at the school. We put out the word and, once again, our amazing alumni stepped up to make this happen!
Thanks to all who responded…"Once a Warrior Always A Warrior"
The Fallbrook Story by Frank Capra
Shows locations and people of my youth. One of the "actors" was our neighbor and the scene was shot at his house just down the road from ours. The film was directed by Frank Capra, who owned an avocado "ranch" in Fallbrook. The introduction is by none other than Cecil B. DeMille.
Shared from Facebook page and thought it was very interesting… Editor
SAVE THE DATE… for the Annual All Alumni Picnic at Live Oak Park.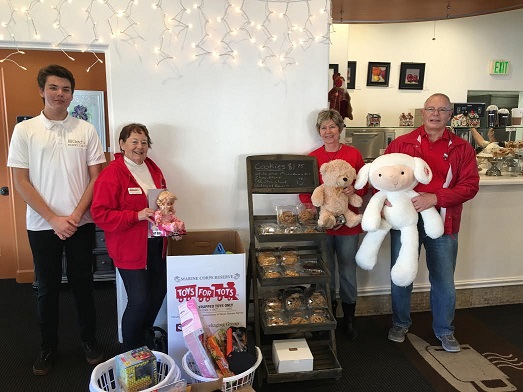 Members and Friends of the Fallbrook Alumni Association gathered on December 11th for a Farmhouse Christmas Potluck at the home of Jan Owen, Pres. Arriving with a favorite dish to share, and toys for girls and boys; tucked in a bag, they celebrated a wonderful year of accomplishments… a year filled with lots of fun and hard work while helping students at Fallbrook High School. With holiday enthusiasm, each brought new unwrapped toys for the Marine Corp's "Toys for Tots" program, an added pleasure for the "Forever Warriors". Following the potluck dinner, the toys were gathered and delivered to an awaiting "Toys for Tots" collection box located at Ged's Bakery Café on Main Avenue in Fallbrook.The box was filled to overflowing as were the hearts of all who participated.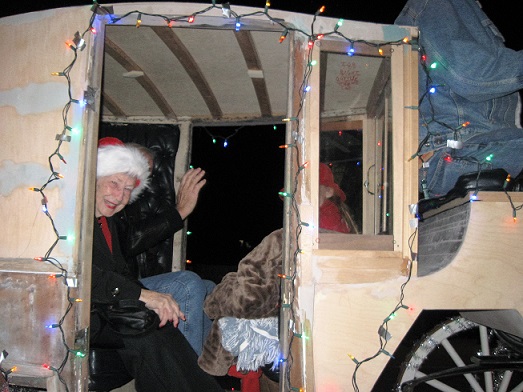 Two Fallbrook Alumni members honored as "Pioneer of the Year" in the Annual Fallbrook Christmas held on Saturday, Dec 3rd. Pat Showalter class of '48 and Jim Grevatt class of '53. Thank you to Jim and Pat for all you have done for our town over the years!!!!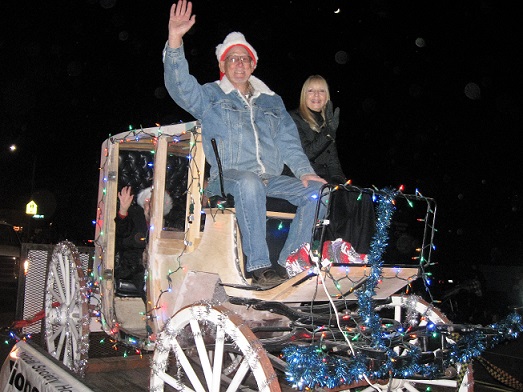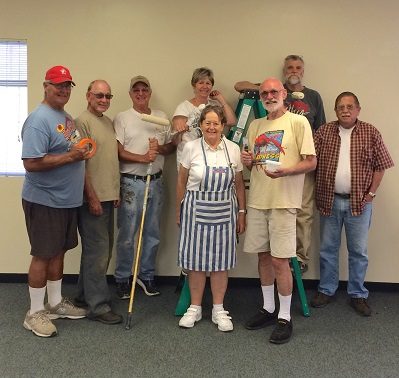 Alumni members recently got together to give the College and Career Center's room at FUHS a much-needed paint job. Tony Morrow, Jim Grevatt, Duane Saunders, Jan Mahr Owen, Bill Hansen, Gary Vix, and Cathy Casper Alexander were among those who spent their Saturday giving back to their alma mater.
Each year the Fallbrook Alumni Association, Inc. purchases 50 Big Student Jan Sport back packs along with extra notebook paper, 3 ring binders and miscellaneous school supplies. Students that receive the backpacks are determined by the school staff.
"Our grand total to date is over 850," said Hansen. "This year we added 15 extra back packs for Ivy (Continuation) High School and filled with yellow highlighter, composition book, extra notebook paper (three packages), extra pencils/pens, and erasers, etc. Each backpack also contains a protractor and other useful school items items."
Members of the Fallbrook Alumni Association, Inc are former students from Fallbrook High School and have the interest of helping students. The members work tirelessly finding funding, purchasing, organizing, and delivering the back packs. The Fallbrook Alumni Association relies on donations and help from a variety of sources to meet their goal. So proud of the work we do for our local schools AND the community
LaChat graduates summa cum laude
FALLBROOK – Chip LaChat graduated from Point Loma Nazarene University in the top 15 percent of his class, receiving the honor of summa cum laude. He earned a bachelor of science degree in biology and passed the MCAT (medical college admission test).
LaChat is currently employed at Cidara, a pharmaceutical research company in San Diego. He is the son of Pete and Sharon LaChat.
Top Three in San Diego County
The FUHSD ACADECA Team recently earned third place in a county wide academic competition known as the Academic Decathlon. This is a ten-event scholastic competition wherein students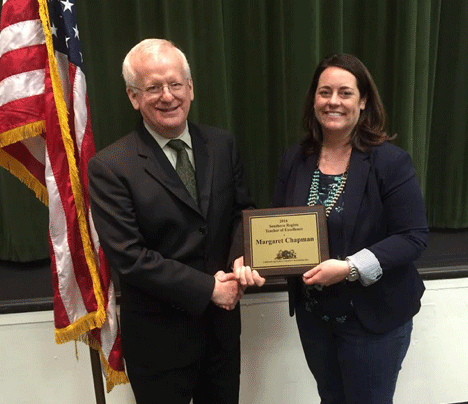 complete seven written tests in the areas of science, literature, art, music, mathematics, economics and social science. They also write an essay, give both a prepared and impromptu speech and are interviewed. The culminating event is the Super Quiz competition.
Margaret Chapman (Agriculture teacher) was awarded the Teacher of Excellence award by the California Agriculture Teachers' Association (CATA) Southern Region. To qualify for this recognition a teacher must have a minimum of ten years of experience teaching in a secondary school or college agricultural program. In picture below, Margaret Chapman receives her award from Future Farmers of America (FFA) Southern Region Advisor Jack Havens at Cal Poly Pomona. She is currently being considered for California Agriculture Teacher of Excellence. Gates Millennium Scholarship Winner!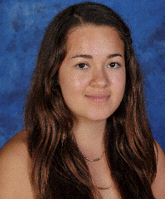 Fallbrook High School senior Ashley Romo has been officially recognized as a Gates Millennium Scholar. Although she was offered admission to many prestigious institutions, she has chosen U.C. Berkeley where she will major in Neurobiology. Earning a Gates Millennium Scholarship is a high-profile, prestigious merit based scholarship that involves a highly selective and competitive process. Eligible students are selected based on academic achievement, community service commitment, demonstrated leadership and academic potential. Gates Millennium Scholars are provided with full financial funding for up to ten years of study in seven areas of study: computer science, education, engineering, library science, mathematics, public health, or science. Thus, Ashley has the opportunity to also complete graduate school debt free.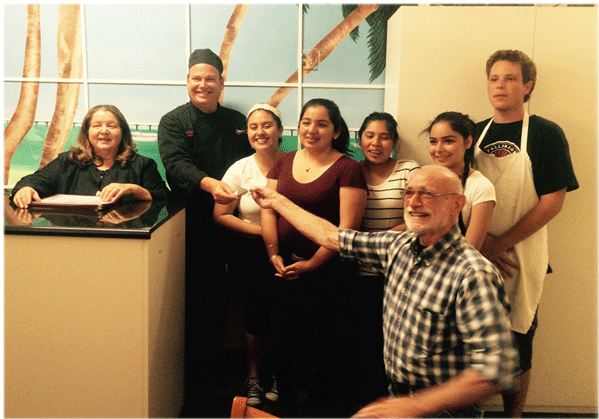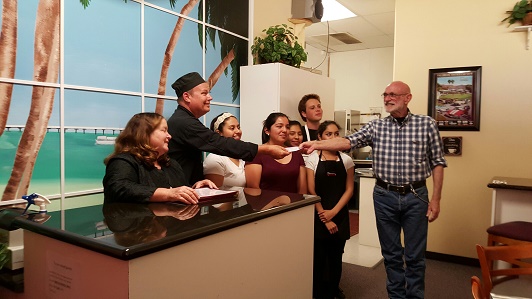 April 2016…Bill Hansen and the staff members of the FHS Warrior Grille. Following a delicious meal, Bill and several members of the Fallbrook Alumni Association presented the "staff" with a donation to help with the continuation of this worthwhile program…..another example of "Forever Warriors" supporting "Today's Warriors".
Bill Hansen presents a donation to the staff members of the Warrior Grille, after he and several members of the Fallbrook Alumni Association enjoy a delicious meal …..Warriors supporting Warriors!!!!
Just received this wonderful note from one of our alumni members… I will share more correspondence at a later time.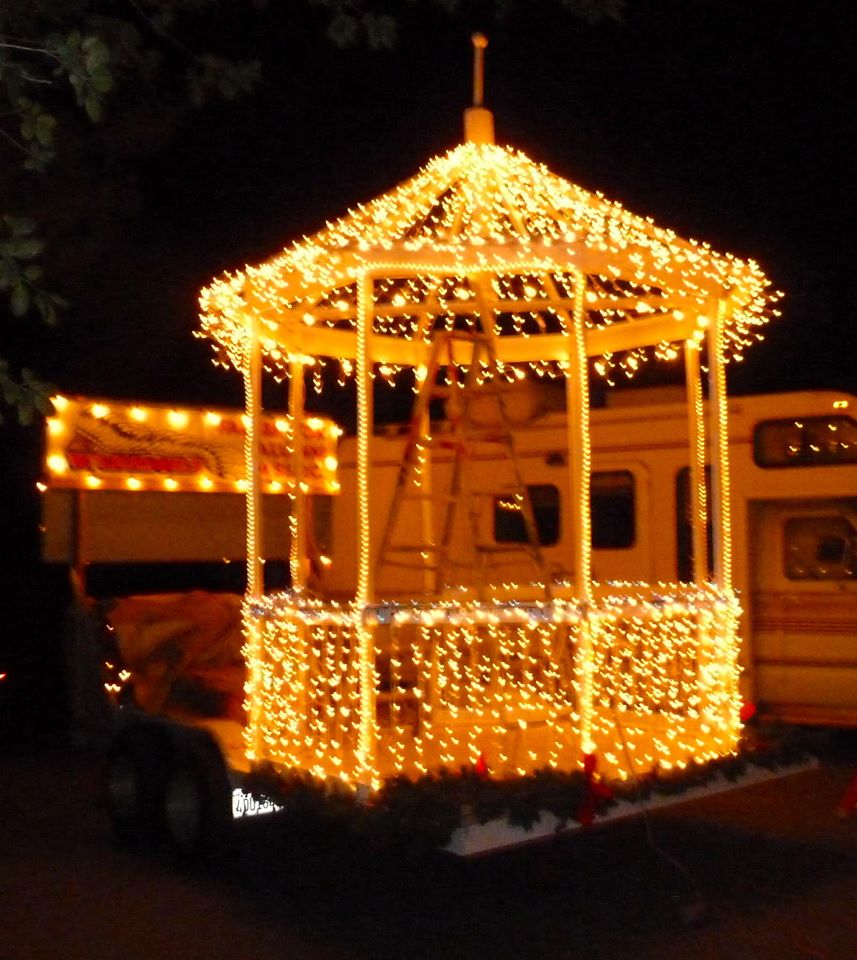 Each year Alumni members come together and sing Christmas carols , while Mr. Bud Roberds, our music teacher plays the piano. By participating in the parade we add more and more alumni members. Always really special dinner at Susan & Gary Vix after the parade. Susan spends all day preparing for us to relax after the parade and enjoy a drink and dinner. So glad to have such involved alumni members.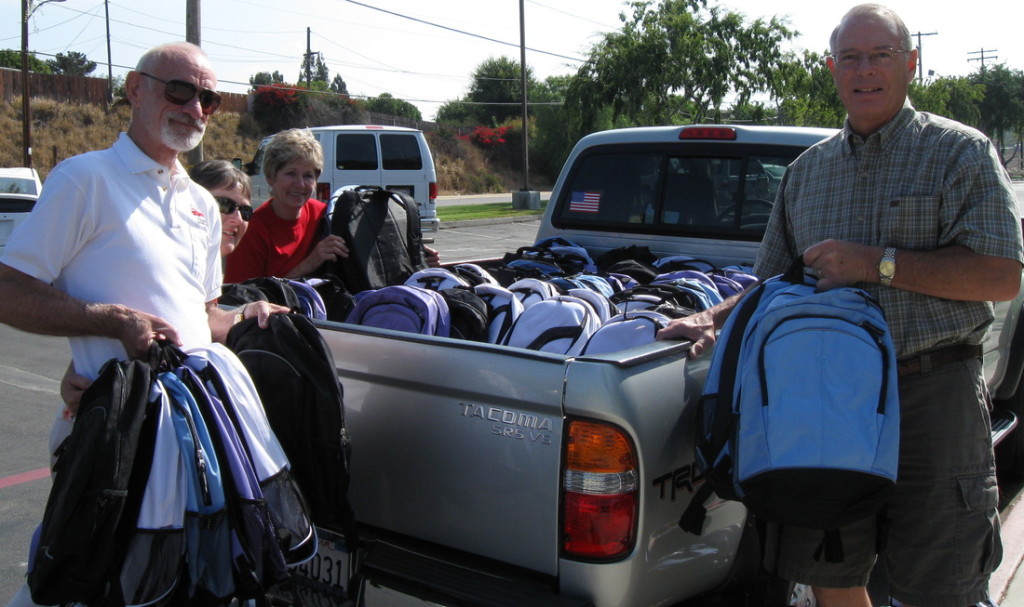 ---
Membership …The association also maintains a database of Fallbrook alumni to help reunion committee's contact their classmates regarding upcoming reunion plans, and we maintain membership in the Fallbrook Chamber of Commerce and the Historical Society. Meetings are as needed to conduct business and plan for upcoming events, such as Homecoming, the annual Fallbrook Christmas Parade, the Historical Society's Community Picnic, Backpack Packing Party, and the All Alumni Picnic In The Park held the 3rd Sunday in October at Live Oak Park.