Video of the 2018 All Alumni Picnic held on Sunday, October 21st, at Live Oak Park in Fallbrook. Video by Ashanti McMill0n
The video below  is  an Alumni..on Facebook a request was made to sing the school Alma Mater and Craig Bass (Class of 1975) took the challenge! Enjoy.
The second link (from Fallbrook Alumni Facebook page) has others singing the Alma Mater at reunions held a couple of weeks ago.
https://drive.google.com/file/d/1CRq6ytYGr-ExBW5ohzLZdkt6VuCEFpso/view?usp=drive_web
https://www.facebook.com/groups/26475503086/permalink/10155976027588087/
A Tribute To Fallbrook!
At the end of 1956, the small town of Fallbrook started to work its way into my heart. I was in high school and my family moved to Fallbrook. This was the start of my love for this town and the joy it would bring me for many years to come. I can remember the first day in Fallbrook, Dale Peterson and Rick Wells asked me to attend a basketball game with them. I was instantly surprised by the friendliness of this community and even Ralph Foster showed me around my first day. Everyone was so welcoming. I made friends right away. During the course of my junior year of high school, I quickly began to appreciate the caring teachers and support of all within this community.
By my senior year, I was already a part of the town of Fallbrook. I had made incredible friends including Dick Uchimura, Nick Arico, Leland Hurty, Don Hasson, Neil Fields, John Denyes, Frank Vernaci, Fred Tagenaga, and many more. The list could go on and on. We had such fun events in high school. The dances, the football games and the time with friends at Richardson's Drive In. I loved being a part of the football team and even remember the time my mom fixed chili after one of the games. One thing I loved about Fallbrook was that although some of us had different religions, backgrounds, or political perspectives, we easily respected each other's views and all remained friends. It was wonderful.
In high school I had the opportunity of working at Lockmiller Avocado with Bob Lochmiller for two years and at Buy and Save Market for one year. The manager was Mr. Sayre. I also worked at Foster Avocado for Gordon Foster. They were great men that helped instill in me a strong work ethic and values that would stay with me throughout my life.
In February 1958, my family experienced a tragedy of our house burning down. Once again, Fallbrook surprised me and rallied together to support me and my family. Mike Port, Bob Lochmiller and the rest of the community stepped in to offer anything they could to help my family.
After high school, I met another person new to Fallbrook named Robbie Crowell. I would have never guessed that this incredible woman would become my wife. We got married November 25, 1960 at the old Methodist Church. At the insisting of her parents, we waited until she was 18. We took the very first opening at the Church after her 18th birthday. Robbie was the smartest woman I had ever met and I felt incredibly blessed to be her husband. After one year of marriage, I got my draft notice. I went in the U.S. Airforce. Robbie and I moved to McCoy Airforce Base in Orlando, Florida. I made very little money but thankfully Robbie got a great job at Martin Murrieta Defense Plant. Her job saved us! When I got out of the Airforce, we wondered where we would go next. We were in agreement that the small town of Fallbrook was where we wanted to raise a family. We were thrilled to move home.
Once in Fallbrook we decided to start our own business, East Brothers Grove Service, with my brother, Gary East. Gary was only able to stay on a few years and then it was just Robbie and I. She took care of the books and I took care of the field. This was a forty year adventure that expanded into a Landscape service, tractor service, asphalt work, and even a Farm store. For me, it was more than my job but it was about being a part of the community of Fallbrook that I truly loved.
Fallbrook was an incredible place to do business. I look back on this time and really hope that I gave to the town as much as I know the town gave to me! I had the privilege of being involved in helping the Youth in the town, Ag Boosters, the Planning Committee, the Design Review, the Fallbrook Historical Society, the Chamber of Commerce and many other organizations. I loved serving with people like Bill Rienstra, Karl Bakken, and many other great people.
We have spent the last number of years in Arizona. My grandson and son in law had some health issues which led to us all congregating there to support each other. Although this was the right thing for my family and where we needed to be at this time of our lives, I will always feel like Fallbrook is my home. I look back on all that this unique community gave to me and my family and am just so grateful to have been a part of it. It was an honor to have been a part of this community for 52 years!
THANK YOU very much!!!
The Fallbrook Alumni Association, Inc. is preparing to welcome all attendees to the Annual Picnic in the Park on Sunday, October 21st from eleven to three in the afternoon.
The RSVPs for the Tri-tip BBQ are due by October 15th. The FUHS Ag Department needs a head count to ensure there is enough food. Please remit your money and names to P.O.Box 596, Fallbrook, CA 92088 to reserve your meal!
There will be cake from Major Market, an Opportunity Drawing, and a chance to meet old friends and make new ones!
We look forward to seeing our "Forever Warriors"!
Thank you for your support!
"Once A Warrior Always A Warrior"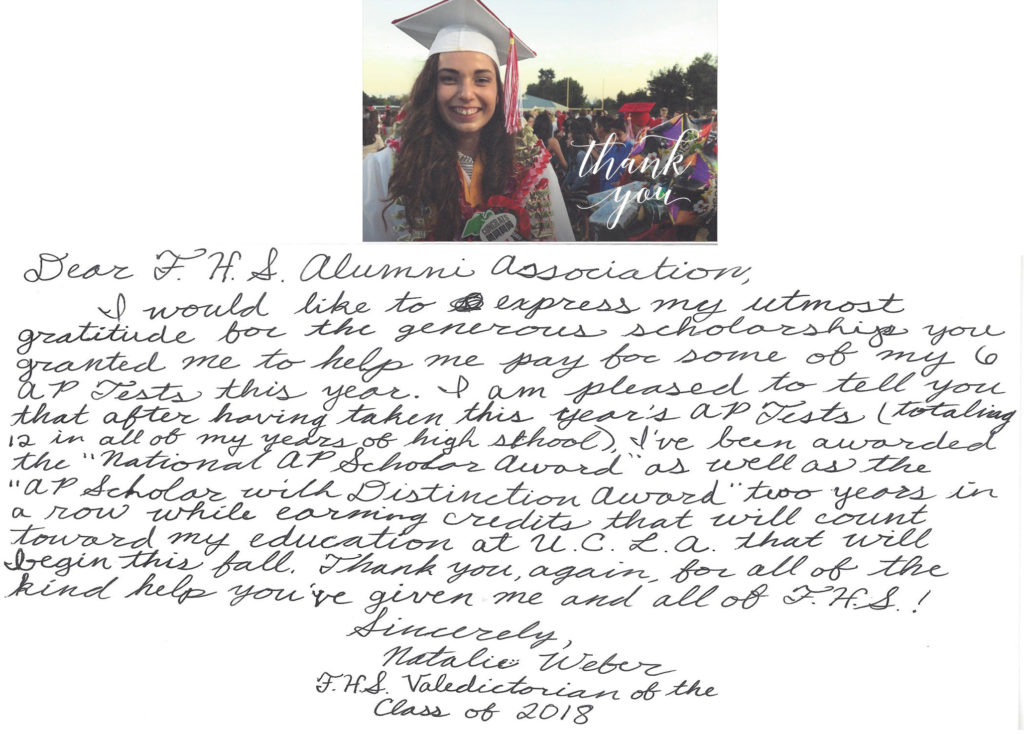 COME JOIN US!  Sunday October 21, 2018  11-3 Live Oak Park.  Order your alumni spirit wear  for the picnic …
Check out the "Warrior" merchandise ..Fallbrook Warrior Merchandise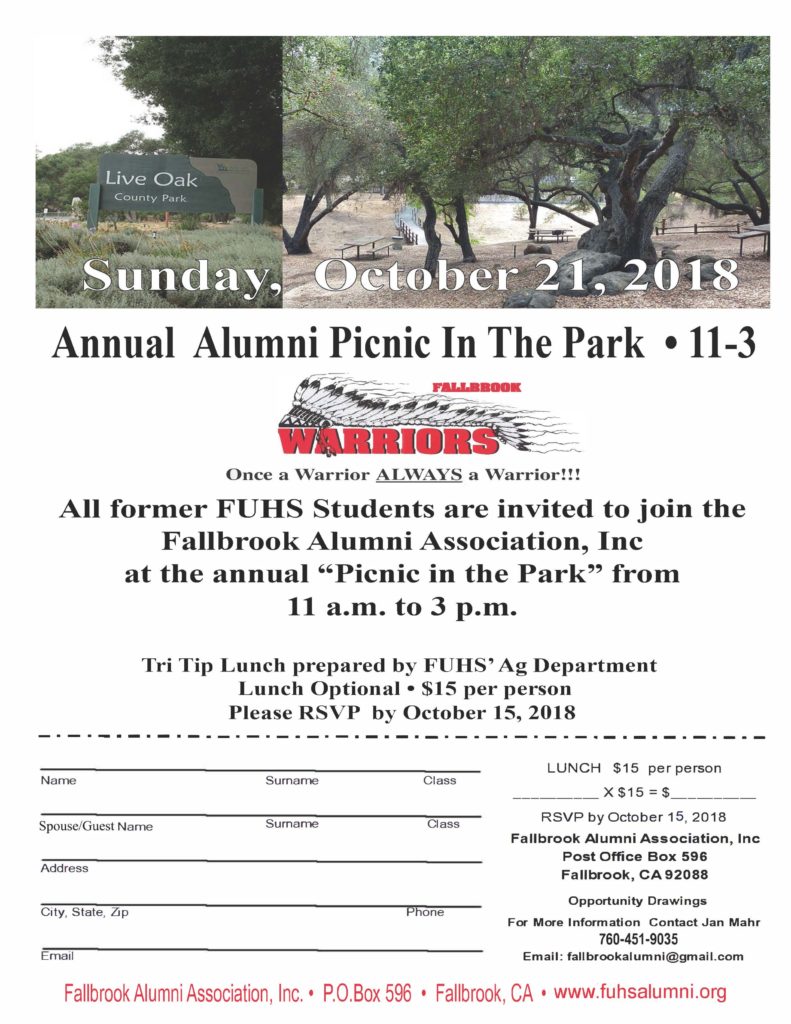 Honor Flight Network Invites Bud Roberds To Washington DC
Reprinted  -Village News  Tom Ferrall — Staff Writer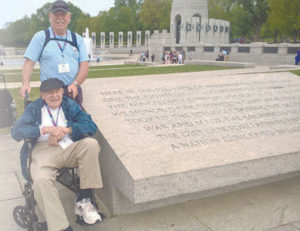 Fallbrook, CA….Longtime Fallbrook resident Bud Roberds, a 98-year-old World War II veteran, recently enjoyed "a wonderful trip" when he joined 79 other veterans in traveling from San Diego to Washington D.C. – with all expenses paid – courtesy of Honor Flight San Diego.
HFSD is a non-profit branch of the nationwide Honor Flight Network which consists of over 130 independent "hubs" across America. Honor Flight's mission is "to transport America's veterans to Washington, D.C. to visit those memorials dedicated to honor the service and sacrifices of themselves and their friends.""I was impressed with the organization," said Roberds. "It was all top-notch."
Roberds plays the piano at Peking Wok Restaurant in Bonsall – his current schedule has him providing background tunes for diners Tuesday through Thursday evenings from 5:30 to 9 p.m. – and Jim Mendelson, a longtime patron of the restaurant, hooked up Roberds with the people at Honor Flight.
Roberds, who broke his right leg last November when he took a tumble while visiting Peking Wok on an off night, recuperated in time to make the Honor Flight trip the weekend of May 4-6. He was accompanied by his son, Bill.
"Each veteran has a guardian (on the trip), and if you don't have one, they assign one to you," said Roberds. "So my son volunteered to be my guardian."
The American Airlines Honor Flight departed San Diego the morning of May 4 and touched down that afternoon at Baltimore-Washington International Airport.
"My first surprise was when we landed there was a group of about 50 people greeting us, saying thanks for your service, bless you and all that kind of stuff," said Roberds. "Men, women and children. I was really taken by that."
The group stayed at hotel in Baltimore and enjoyed a welcome dinner. The next morning, the veterans were up early to board a bus to Washington D.C., where they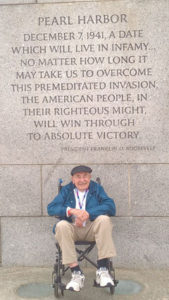 would spend the day touring war memorials and other historic sites. Each veteran was given a wheelchair, which was pushed by their guardian.
The buses carrying the Honor Flight heroes always had the right of way when traveling from one location to the next.
"In D.C., every place the bus went we had a police escort," said Roberds. "We went through red lights."
Honor Flight provided special shirts for the veterans to wear and those shirts prompted an outpouring of thanks and good wishes.
"We were at the Lincoln Memorial and people would see us, stop and say, 'thank you for your service,'" said Roberds, eyes tearing up at the memory. "I get choked up."
Roberds said the touring lasted all day.
"The World War II Memorial, I was impressed with," said Roberds. "That was the biggest. Then we saw the Korean War Veterans Memorial and the Vietnam Veterans Memorial. And we visited the Washington Monument and the Lincoln Memorial. The Lincoln Memorial…that's pretty heavy," said Roberds, his eyes getting moist once again
Upon returning to Baltimore, the group enjoyed dinner at the hotel, recounting the activities of the day.
"Most of the veterans (on the trip) were World War II but we're kind of running out of those guys," said Roberds. "Then there was a small bunch from the Korean and a smaller group from the Vietnam."
Roberds was drafted and joined the U.S. Army in March 1943. He went through basic training at Fort Custer (Michigan) in the Military Escort Guard unit, and his first assignment was guarding German POWs at Fort McClellan (Alabama).
Roberds was transferred to a 40 mm anti-aircraft artillery unit in 1944, went to Europe in December 1944 and entered Germany in February 1945. His unit joined General George Patton's Third Army when it crossed the Rhine River in March 1945. Roberds' unit stayed on the west side, protecting the troops while engineers –
under heavy fire – installed a pontoon bridge so that tanks could cross.
Roberds' unit was guarding an airport north of Munich when the German war ended. He stayed in Munich another year as part of the occupation force before returning to the U.S. in March 1946. Roberds was discharged April 5, 1946.
Roberds said the most memorable part of his Honor Flight trip was "that return to San Diego."
"As we were coming into land (at San Diego International Airport) the pilot told us to look out the window," said Roberds. "Then we saw all these police cars lined up with their lights on to welcome us home."
Once in the terminal, the group took an elevator down a level, and when the doors opened the veterans were greeted by a throng of cheering people. Patriotic music played in the background as the veterans and their guardians slowly navigated their way through the crowd, shaking hands on both sides as the procession aisle.
"Bill thought there were at least a thousand people there," said Roberds. "They were just lined up – men, women and children on both sides. My son was pushing me through and they're shaking your hand, saying 'thanks for your service,' and 'welcome home to San Diego'. Old people, middle-age, and kids. One little kid gave me a cookie and another little kid handed me a flag and they say, 'thanks for your service.'
"God almighty," continued Roberds, the memory causing his eyes to tear up like they did that day. "A lady gave me a tissue. When I was talking to other guys, they said they had tears. It was one of the most amazing group things I've been involved with. This really touched me. It was the end (of the trip), but the climax."
Roberds, a native of San Jacinto, graduated from UCLA even though he didn't finish his senior year. He was halfway through his senior year when he was drafted.
"My senior year we took midterms and the rule was if you passed your midterms and you went into the service, they give you credit for the rest of the year," explained Roberds, who took – and passed – his midterms the week before he reported to duty.
Roberds, who as the son of a musician grew up learning to play various instruments, taught music at a school in San Jacinto for nine years before he and his wife, Jewell, moved to Fallbrook in 1956. Roberts was employed as a music teacher by both the Fallbrook Elementary and Fallbrook High School districts for four years before he became full-time at the high school in 1960.
Roberds counts his two children – Bill (class of 1969) and Lorraine (class of 1972) – among the students he taught at Fallbrook High before retiring from the school in 1979.
Roberds is a member of the California Retired Teachers Association and a parishioner at St. Peter the Apostle. He has been performing at Peking Wok since 1990 (the restaurant was in Vista back then) and still drives himself to and from work. His mind is razor sharp.
Roberds sometimes is too active for his own good, as was the case in 2007 when, at age 87, he broke his left leg.
"I was putting up Christmas decorations and fell off the roof onto the concrete," said Roberds with a guilty smile.
Roberds bounced back from that injury, just as he has from his most recent fall, proving the saying, "you can't keep a good man down."
The front cover of the  Fallbrook Alumni Calendar . The calendar features businesses in Fallbrook and is for sale in several businesses in Fallbrook besides advertisers. Calendars are $9.99 each.
To receive yours by mail contact us at  fallbrookalumni@gmail.com. or socalcalendars.com
Rita Robinson Pankey – Special to the Village News
I came to Fallbrook in the summer of '57, from Washington DC in a 28' travel trailer. My Dad, a Navy officer with 30 years service, had just retired. My folks had always planned to come back near San Diego. They thought Fallbrook was the perfect town.
For three months we lived in a mobile park (it was where Albertson's parking lot is now! ) until they could find a home to buy. Before Fallbrook, we had also lived in Guam, Hawaii, Florida, and Texas. Now we were finally settling down!
High school days were full and fun. In my senior year, I dreamed I was a nurse and realized that was the
profession for me. I graduated from San Diego State with a bachelor of science in nursing. Over a 23 year period, I worked in different hospitals, primarily medical surgical units with my last four years working in rehabilitation at Scripps Encinitas. I met Bill, in the 8th grade. We were just good friends and never dated in high school, but when we reconnected in 1969, romance was in the air and we started dating and married in 1971 in La Jolla. Bill was involved in the business world and became expert in computers.Hospital nursing was always exciting and ever changing. Patients come and go and the nurse has the privilege.  of meeting many interesting people and helping with a vast variety of diseases and conditions.
We were blessed over the years with three wonderful daughters. Life was busy! We had been living in Cardiff for 13 years and were very happy there, but the family ranch here in Fallbrook was beckoning to Bill and it was obvious that he was needed to manage it. That was in 1986. Our daughters would go to the same high school that we attended!
We never thought that we would come back to Fallbrook but here we are and we've been here now for 31 years. How time flies! It has been great living in the country. For many years, we had horses on the property and enjoyed many contented hours of riding. That era passed when the grandkids started arriving.
Fallbrook is a special and beautiful town and it is wonderful to be here. We are especially blessed that all our daughters and grandchildren live nearby.   We love to see our six grandchildren often. I count my blessings to be living here with the beauty of the countryside and the wonderful friends who live here.
I retired in 1994 to help take care of my parents. Bill is still working hard managing the ranch and his computer company. We love to travel and read and spend time with the family. I am involved in the Angel Shop Thrift Store and have made many life long friends through that organization. It is a wonderful way to meet people and the shop generates money for many local charities.
Thanks for the memories
Marlin D. Vix
Special to the Village News
It is with great pleasure that I think back on the years I lived in Fallbrook, beginning in 1950 as a first grader through 1962 when I graduated from high school. The experiences and friendships of those years were truly the wonder years.  To those of you who were living in Fallbrook in the 1950s and 1960s, you will probably agree that it truly was a magical place.
One was never bored. There were adventures to be had, forts to build, and bike crashes to rival those at the Indy 500.  In the summer, you could leave home at 8 a.m. without a penny in your pocket, somehow get fed by a friend's mother, arrive at home before sundown, and your mother somehow knew everything that you had done that day.
After high school, I attended San Jose State, married Cindy, who has been my wife for nearly 50 years, worked at various jobs after graduation, went to Europe for one year and then decided to go to graduate school.
One month before graduation, I received a call from one of my professors asking me to apply for a lectureship for one year. I applied and got the job.  That fortuitous call started my family on a path that would begin my teaching career at Cal Poly San Luis Obispo where I was a professor in the Agribusiness Department for 37 years.
Cindy and I have been blessed with two independent, delightful children who have spouses that are a gift in our lives. We have five grandchildren, and all of them are energetic and seem to be headed in the right direction.
Now that my wife and I have retired, we are rarely at our home in San Luis Obispo. We have been fortunate to have been able to travel while I was at Cal Poly, spending four months at a time in the South Pacific; Florence, Italy, and London. Our current travels are shorter but more frequent and will continue until we are exhausted, which should be in another 25 years.
A few years ago, I decided to take voice lessons from a teacher who had performed with opera companies. Unlike wine, the voice does not improve with age, and I think I was taken on as a student out of pity. Nevertheless, I now sing with great gusto but only my wife gets to be my audience.
I play tennis with little ability but with great energy; 'play' is the operative word since I do not compete. I practice and take lessons. The joy of learning and improving is far more gratifying to me than using the score as an indicator of how much fun or frustration I have experienced.
I wish to thank my Fallbrook friends, teammates, classmates, teachers, coaches, parents and siblings for providing me with the encouragement to take chances in life. I cannot imagine a better place to have grown up.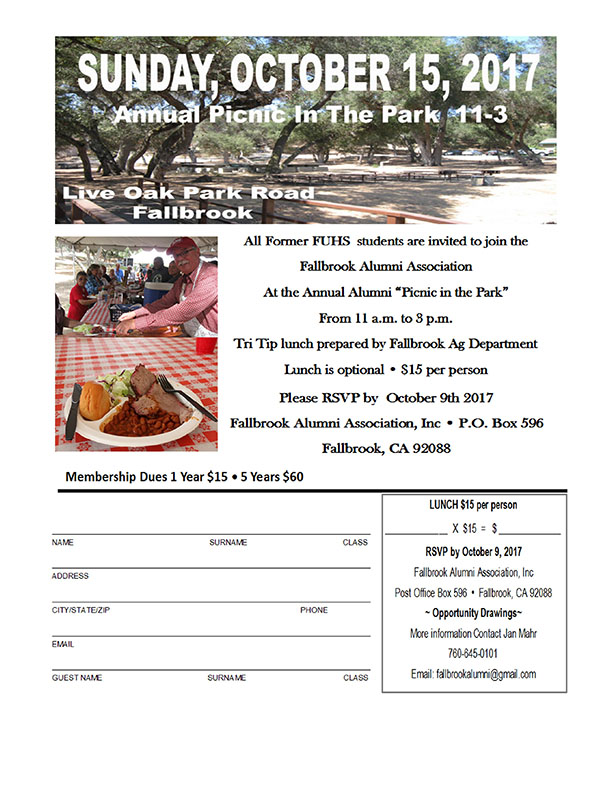 Come join this fun event..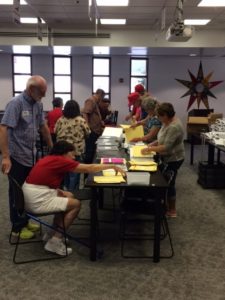 We did it! Another successful backpack packing event is in the books. Many thanks to our intrepid packers, alumni members Nora, Maxine, Carol, Tony, Cathy,
Dixie, Barbara (all the way from Florida!), Jerry, Duane, Jim, Jan, and Gary. Special thanks to Nora and Gary, and their daughter, Anita at King's Stationers, for ordering and delivering the supplies.
Nora is in the final stages of putting our calendar together and showed us preliminary artwork that is sure to make our calendar a best seller once completed. It features local Fallbrook merchants and organizations. Stay tuned for the new, 15 month, calendar available for purchase SOON!
FYI, the new Career Center at FUHS is AWESOME! It really is a showcase and perfect for our young Warriors to spend time in while researching career paths and schools to pursue. Tony Morrow and Pam Cain can be very proud of their new "digs" and did a fantastic job putting it all together
FUHS Career Center Needs Thermal Pump Coffee Servers  and….
The hard-working Pam Cain at Fallbrook High School's College and Career Center received two thermal air pots donated by the Fallbrook Alumni Association. They will be used in the new Center located under the library at the school. We put out the word and, once again, our amazing alumni stepped up to make this happen!
Thanks to all who responded…"Once a Warrior Always A Warrior"
Fallbrook High School Scholarship 2017 Program – Scholarships Fallbrook Alumni Association. Inc awards.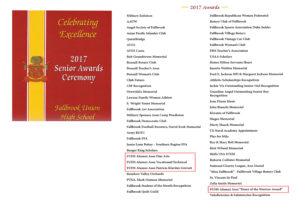 The Fallbrook Story by Frank Capra
Shows locations and people of my youth. One of the "actors" was our neighbor and the scene was shot at his house just down the road from ours. The film was directed by Frank Capra, who owned an avocado "ranch" in Fallbrook. The introduction is by none other than Cecil B. DeMille.
Shared from Facebook page and thought it was very interesting… Editor
SAVE THE DATE… for the Annual All Alumni Picnic at Live Oak Park.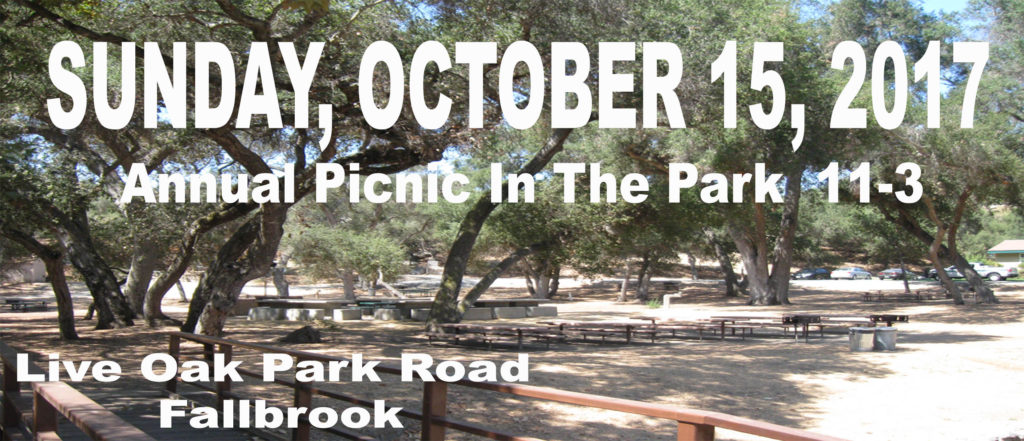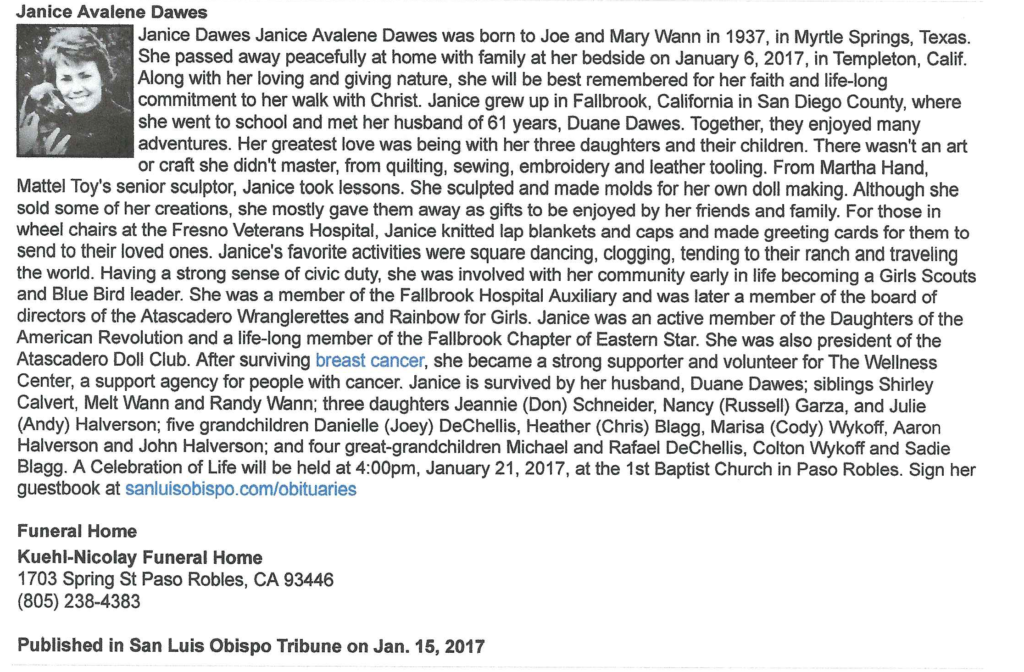 Alumni Association Loses Two Members… Jack Story, Class of '52 Otis Heald, Class of '57.
Otis P. Heald died December 25, 2016. He was born on April 15, 1939 to Alice and Bill Heald in Loma Linda, Calif. and grew up in Fallbrook. Otis graduated from Fallbrook High School '57, SDSU '64 and served in the U.S. Navy at the Oakland Naval Hospital.
He participated in Accion en Venezuela, worked for Sears, managed/owned the Fallbrook Lumber Co., and a commercial real estate business. He participated in or donated to many charitable groups over the years including The Fallbrook Rotary Club, The Boys and Girls Club, the Fallbrook Chamber of Commerce, The Fallbrook Land Conservancy, REINS, Fallbrook Art Center, and others.
He loved traveling, art collecting, and dove hunting, but most of all, he loved being with his family. Otis leaves behind his wife Linda; sons Eric and Peter; daughters-in-law Kelli, Maeve and Mary; grandchildren Jack, Lauren, Edan, Kate, Danae and Tyler; his sister Nancy Norman and niece Cathy Norman. He was predeceased by his son "Tres".
In lieu of flowers, donations may be made to the Amyloidosis Foundation, or a charity of your choice. A memorial will be held January 6 beginning at 2 p.m. at the Grand Tradition Estate in Fallbrook.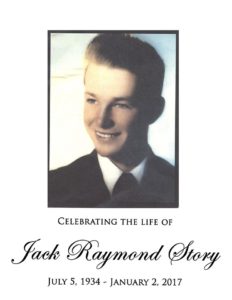 Members and Friends of the Fallbrook Alumni Association gathered  on December 11th for a Farmhouse Christmas Potluck at the home of Jan Owen, Pres. Arriving with a favorite dish to share, and toys for girls and boys  tucked in a bag, they celebrated a wonderful year of accomplishments… a year filled with lots of fun and hard work while helping students at Fallbrook High School.  With holiday enthusiasm, each brought new unwrapped toys for the Marine Corp's "Toys for Tots" program, an added pleasure for the "Forever Warriors".  Following the potluck dinner, the toys were gathered and delivered to an awaiting "Toys for Tots" collection box located at Ged's Bakery Café on Main Avenue.  The box was filled to overflowing as were the hearts of all who participated.
,.
Throughout the year the Fallbrook Alumni Association hosts several events, all intending to promote community and school spirit alike.  Anyone wishing more information regarding these events, contact Jan at the Assn:
fallbrookalumni@gmail.com
or visit the website:
fuhsalumni.org
.
Two Fallbrook Alumni members honored as "Pioneer of the Year" in the Annual Fallbrook  Christmas held on Saturday, Dec 3rd.  Pat Showalter class of '48 and Jim  Grevatt class of '53.  Thank you to Jim and Pat for all you have done for our town over the years!!!!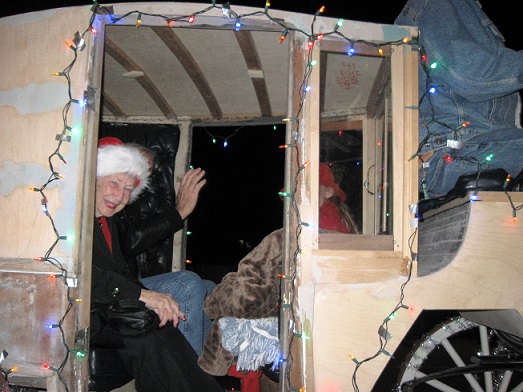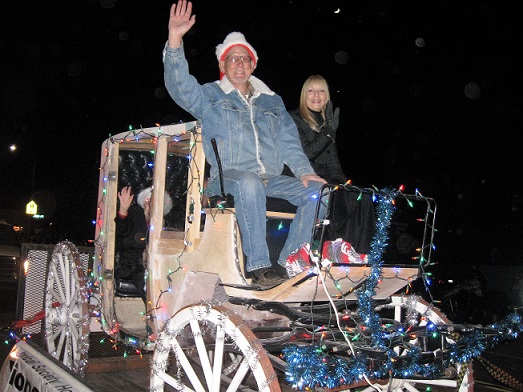 UPDATE…MEASURE AA PASSES!
Summary for measure AA -Measure AA will:
Repair or replace  deteriorating roofs, plumbing and electrical systems
Renovate career training facilities for science, technology, engineering, math and skilled trades
Improve school safety and security
Replace aging portables with modern permanent classrooms
Upgrade aging physical education facilities for current health and safety standards
During a Fallbrook Alumni Association meeting held on Saturday, September 17th at the Fallbrook Library, Will Hatcher, Chief Business Officer at FUHS, spoke about the school bond measure (Proposed  Measure AA). In addition to members of the association, Executive Assistant Carmen Montejano was there to represent FUHS Superintendent Dr. Hugo Pedroza. Members of the association watched a slide show and asked questions regarding this bond measure in the November 8th election.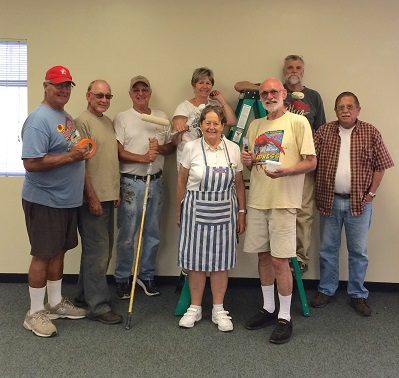 Alumni members recently got together to give the College and Career Center's room at FUHS a much-needed paint job. Tony Morrow, Jim Grevatt, Duane Saunders, Jan Mahr Owen, Bill Hansen, Gary Vix, and Cathy Casper Alexander were among those who spent their Saturday giving back to their alma mater.
Each year the  Fallbrook Alumni Association, Inc. purchases  50 Big Student Jan Sport back packs along  with extra notebook paper, 3 ring binders and miscellaneous school supplies. Students  that receive the backpacks are determined by the school staff.
"Our grand total to date is over 850," said Hansen. "This year we added 15 extra back packs for Ivy (Continuation) High School  and filled with yellow highlighter, composition book, extra notebook paper (three packages), extra pencils/pens, and erasers, etc. Each backpack also contains a protractor and other useful school  items items."
Members of the Fallbrook Alumni Association, Inc are former students from Fallbrook High School and have the interest of helping students.  The members work tirelessly finding funding, purchasing, organizing, and delivering the back packs. The Fallbrook Alumni Association relies on donations and help from a variety of sources to meet their goal. So proud of the work we do for our local schools AND the community
LaChat graduates summa cum laude
FALLBROOK – Chip LaChat graduated from Point Loma Nazarene University in the top 15 percent of his class, receiving the honor of summa cum laude. He earned a bachelor of science degree in biology and passed the MCAT (medical college admission test).
LaChat is currently employed at Cidara, a pharmaceutical research company in San Diego. He is the son of Pete and Sharon LaChat.
Top Three in San Diego County
The FUHSD ACADECA Team recently earned third place in a county wide academic competition known as the Academic Decathlon. This is a ten-event scholastic competition wherein students
complete seven written tests in the areas of science, literature, art, music, mathematics, economics and social science. They also write an essay, give both a prepared and impromptu speech and are interviewed. The culminating event is the Super Quiz competition.
Margaret Chapman (Agriculture teacher) was awarded the Teacher of Excellence award by the California Agriculture Teachers' Association (CATA) Southern Region. To qualify for this recognition a teacher must have a minimum of ten years of experience teaching in a secondary school or college agricultural program. In picture below, Margaret Chapman receives her award from Future Farmers of America (FFA) Southern Region Advisor Jack Havens at Cal Poly Pomona. She is currently being considered for California Agriculture Teacher of Excellence. Gates Millennium Scholarship Winner!
Fallbrook High School senior Ashley Romo has been officially recognized as a Gates Millennium Scholar. Although she was offered admission to many prestigious institutions, she has chosen U.C. Berkeley where she will major in Neurobiology. Earning a Gates Millennium Scholarship is a high-profile, prestigious merit based scholarship that involves a highly selective and competitive process. Eligible students are selected based on academic achievement, community service commitment, demonstrated leadership and academic potential. Gates Millennium Scholars are provided with full financial funding for up to ten years of study in seven areas of study: computer science, education, engineering, library science, mathematics, public health, or science. Thus, Ashley has the opportunity to also complete graduate school debt free.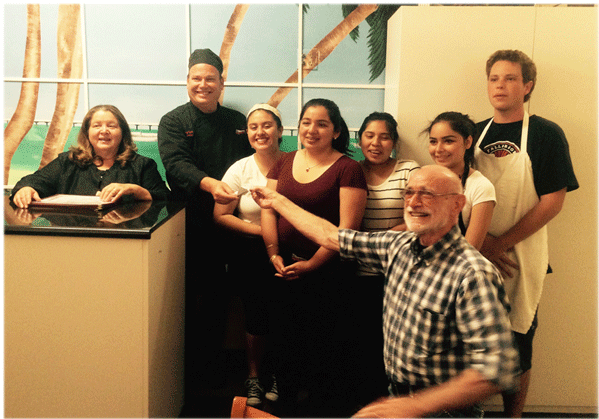 April 2016…Bill Hansen and the staff members of the FHS Warrior Grille. Following a delicious meal, Bill and several members of the Fallbrook Alumni Association presented the "staff" with a donation to help with the continuation of this worthwhile program…..another example of "Forever Warriors" supporting "Today's Warriors".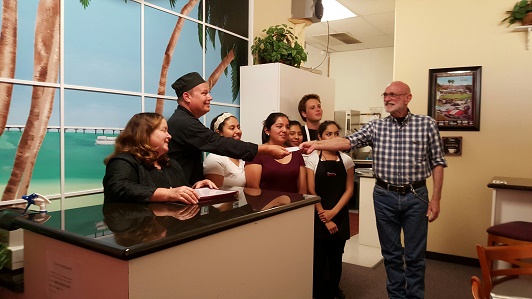 Bill Hansen presents a donation to the staff members of the Warrior Grille, after he and several members of the Fallbrook Alumni Association enjoy a delicious meal …..Warriors supporting Warriors!!!!
Just received this  wonderful note from one of our alumni members… I will share more correspondence at a later time.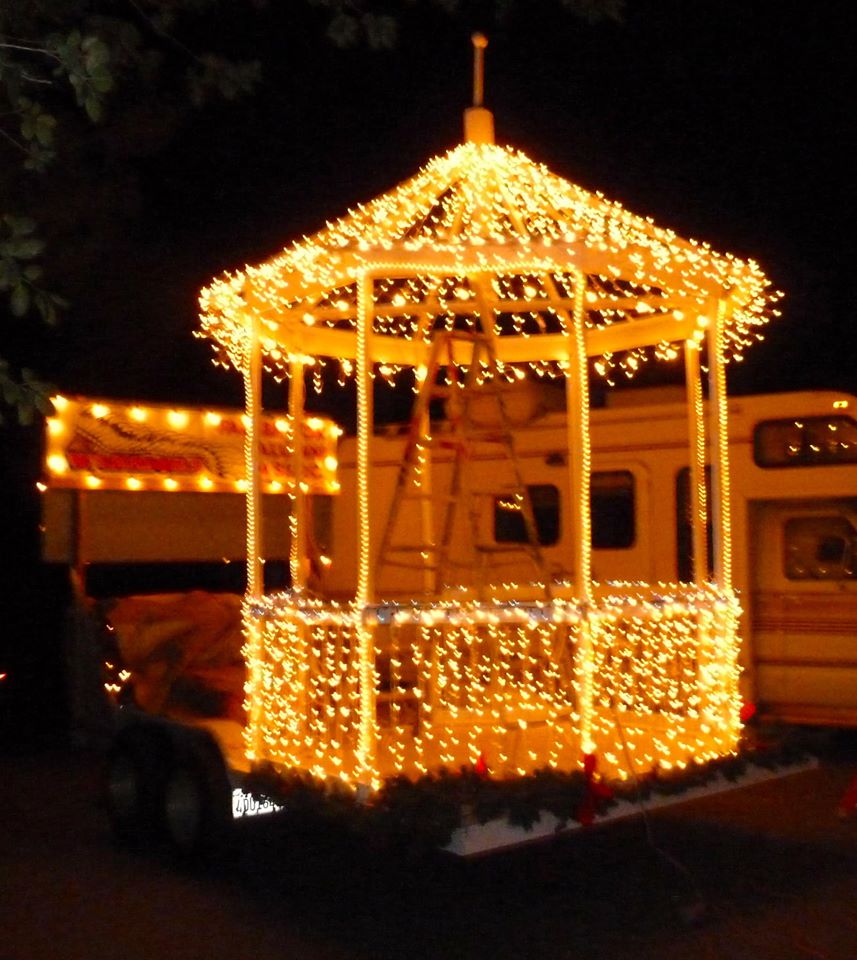 Each year Alumni members come together and sing Christmas carols , while Mr. Bud Roberds, our music teacher plays the piano. By participating in the parade we add more and more alumni members. Always really special dinner at Susan & Gary Vix after the parade. Susan spends all day preparing for us to relax after the parade and enjoy a drink and dinner. So glad to have such involved alumni members.
That is what makes it all so special.
 Backpack Buddy Program:  Every year since 2003, the Alumni Association has provided backpacks with school supplies to Fallbrook High students faced with financial hardships. 75 backpacks were delivered again this year! THANKS, ALL!
---
Membership  …The association also maintains a database of Fallbrook alumni to help reunion committee's contact their classmates regarding upcoming reunion plans, and we maintain membership in the Fallbrook Chamber of Commerce and the Historical Society. Meetings are as needed  to conduct business and plan for upcoming events, such as Homecoming, the annual Fallbrook Christmas Parade, the Historical Society's Community Picnic, Backpack Packing Party,  and the  All Alumni Picnic In The Park held the 3rd Sunday in  October at Live Oak Park.